Visiting the Cemetery
Bellevue Memorial Park is a peaceful serene place of remembrance for families and friends visiting their loved ones. Please respect the privacy of others.
For visitor safety, the speed limit is always 5 miles per hour.
Thank you.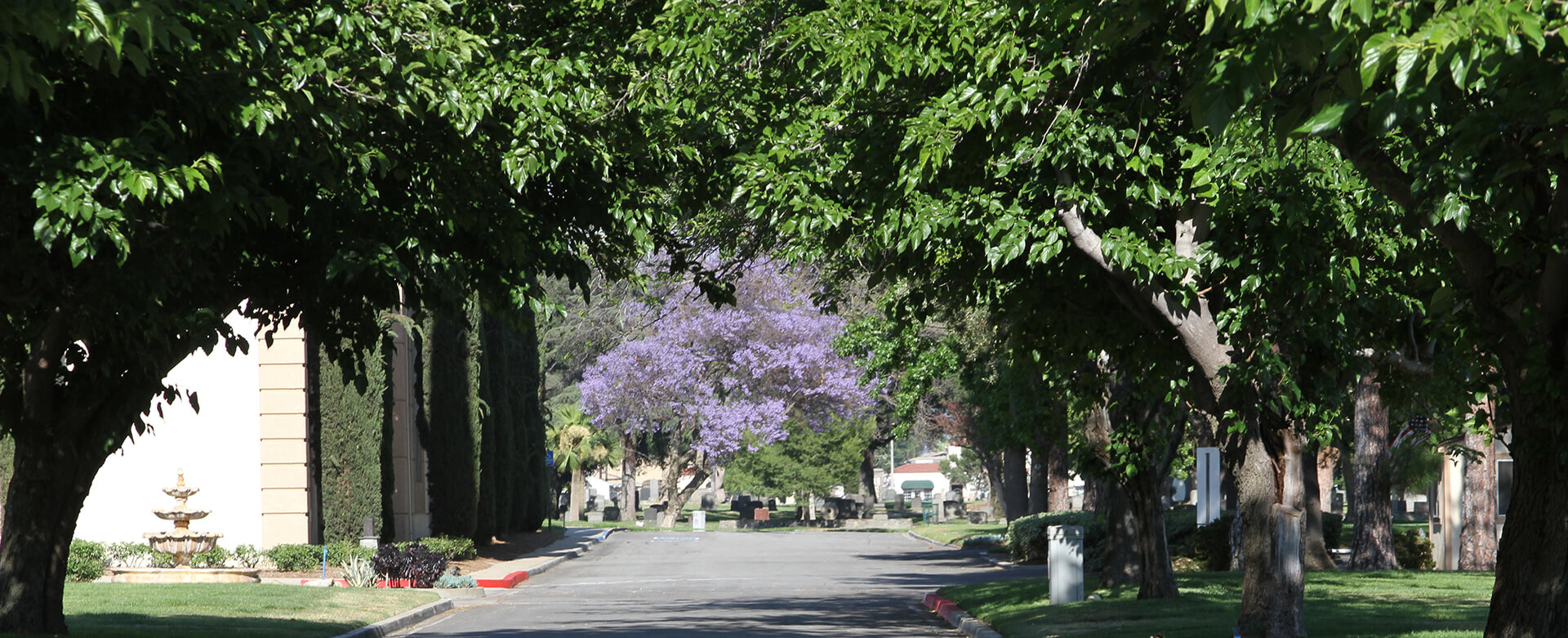 Visitor's Code of Conduct
Bellevue Memorial Park, established in 1892, an historic landmark cemetery, is known for beauty, dignity, serenity and everlasting memories.  As a licensed California cemetery, Bellevue is not a public park.  Children under 18 must be accompanied by an adult.

Mowing schedule rules must be observed, including placing and removal of flowers and decorations on non-mowing days.

Please respect the privacy of those attending funerals or visiting family memorials. For safety and respect for others, please walk with care around burial (grave) memorials and in all mausoleum corridors.

Photography – limited to family memorials only!

All Smoking (of any type) is prohibited at all funeral services and within 50 feet of all cemetery offices and buildings.

Removal of flowers or other decorations is limited to the owner of the property and cemetery staff.

Feeding of birds or animals or disturbing wildlife is prohibited.

Walking with a leashed dog is allowed.  Owners MUST pick up (clean up) after their dog.

Decorating or climbing on cemetery trees, plants or features is prohibited.

Loitering, sitting or lying on any lawn area, planter walls, burial (grave) markers or memorial benches is not allowed.

Do not damage or climb on trees and plants, or pick flowers from cemetery landscaping.

The following activities are not allowed at any time:

Possession and Consumption of Alcoholic Beverages.
Personal tents, canopies, food, music or drinks (except bottled water).
Balls, bats, other sports equipment and playing sports of any kind are prohibited.

Keep vehicles or bikes locked.  Bellevue is not responsible for lost, damaged or stolen items.

Any person on cemetery property before opening hours or after closing hours will be considered trespassing.  Bellevue will enforce Code of Conduct rules under local police authority granted to cemetery management.
Flower & Decoration Policy
The Bellevue Flower and Decoration Policy is to preserve the beauty and safety of Bellevue Memorial Park for all families and visitors. Please observe the following rules and regulations:
Each family is responsible to maintain the flower vase for each interment. Replacement vases are available at the cemetery office if original vase is unusable or missing.

ALL FLOWERS AND DECORATIONS WILL BE REMOVED EARLY MORNING ON THE "MOWING DAY" FOR EACH SECTION.  SEE MOWING SCHEDULE SIGN AT CEMETERY ENTRANCE AND COLOR-CODED CURBS FOR EACH SECTION. Maps can also be downloaded from this website as well be obtained from the cemetery office.

Removal of flowers and decorations must be done by the owner of the interment (burial) space and/or by cemetery staff only. Moving flowers and decorations to non-family locations is prohibited!

The following decorations are not permitted at any time and will be removed immediately:

Solar lights, statues, ornaments, glass/ceramic items, stones, planter boxes or fences/borders of any kind around interment sites.
Anything attached to cemetery trees and/or shrubs.
Decorations should not infringe on interment sites owned by others.
Decorative (artificial) Christmas trees are allowed only in the month of December and are subject to the standard removal policy.

Trees must not exceed 4ft in height.
Integrity Throughout History
Since being established in 1892, Bellevue Memorial Park has continually been an integral and important part of the Ontario and Inland Empire growth. With more than 62,500 interments to date, Bellevue has served the many cultural communities and historic families that have made this area their home. In 2017, Bellevue received the coveted George Chaffey Memorial Award from the City of Ontario for leadership in preserving Ontario's cultural heritage.
If you need immediate help or wish to plan in advance, Bellevue Memorial Park's family service counselors are here to assist you.
Large Enough to Help, Small Enough to Care