Purchase a Resting Place
Bellevue Memorial Park is a full-service memorial cemetery, providing complete selections of ground interment sites, above-ground mausoleum crypts, indoor/outdoor niches and niche columbarium areas, cremation urn garden burials – plus cremation memorial scattering gardens.
Pricing at Bellevue Memorial Park allows you to choose locations and types of services which best fit your needs. Our Family Service Counselors are very knowledgeable and experienced and provide dedicated service tailored for your individual family desires and concerns. After Care by our Counselors is also provided when your immediate needs have been met.
Traditional Ground Spaces
Standard full-size ground (grave) interment spaces – generally laid out in an east/west orientation with head end facing west.  Identification by sequential lot numbers in every section. Markers allowed.

Cremation (only) ground interment spaces – smaller space than standard full-size ground (grave) space.  Markers allowed.

Special Infant Interment sections – smaller space than standard full-size ground (grave) space. Markers allowed.

Dedicated Veterans' Interment section – standard and cremation interment spaces.
Above Ground Niche Spaces
For Memorialization of Cremated Remains in Urns
Beautiful and personalized glass front niche spaces (for urns and personal memorabilia) – located in mausoleum buildings on vertical columbarium walls.

Stone and bronze covered front indoor/outdoor niche spaces (for cremation urns) – located in mausoleum buildings on vertical columbarium walls and in other special walls in memorial gardens.
Memorial Cremation Gardens
Bellevue Memorial Park has six dedicated Memorial Cremation Gardens located throughout the cemetery designed specifically for those who wish to scatter the cremated remains of a loved one.

Cremated Remains are scattered in the rose garden area by preparing a space in the earth, depositing the cremated remains directly into the earth (with the identification tag) and the raking the area afterward. No cremated remains are exposed. A granite border in the memorial cremation garden is available for name memorialization to be inscribed.
Flat Markers, Upright Monuments & Benches
Please see beautiful marker, upright monument and bench display near front of cemetery office.
Granite – full range of standard flat markers up to larger intricate upright markers – with many choices in between.

Bronze – full range of standard and upgraded markers.

Granite Benches – full range of standard benches plus benches with spaces for cremated remains.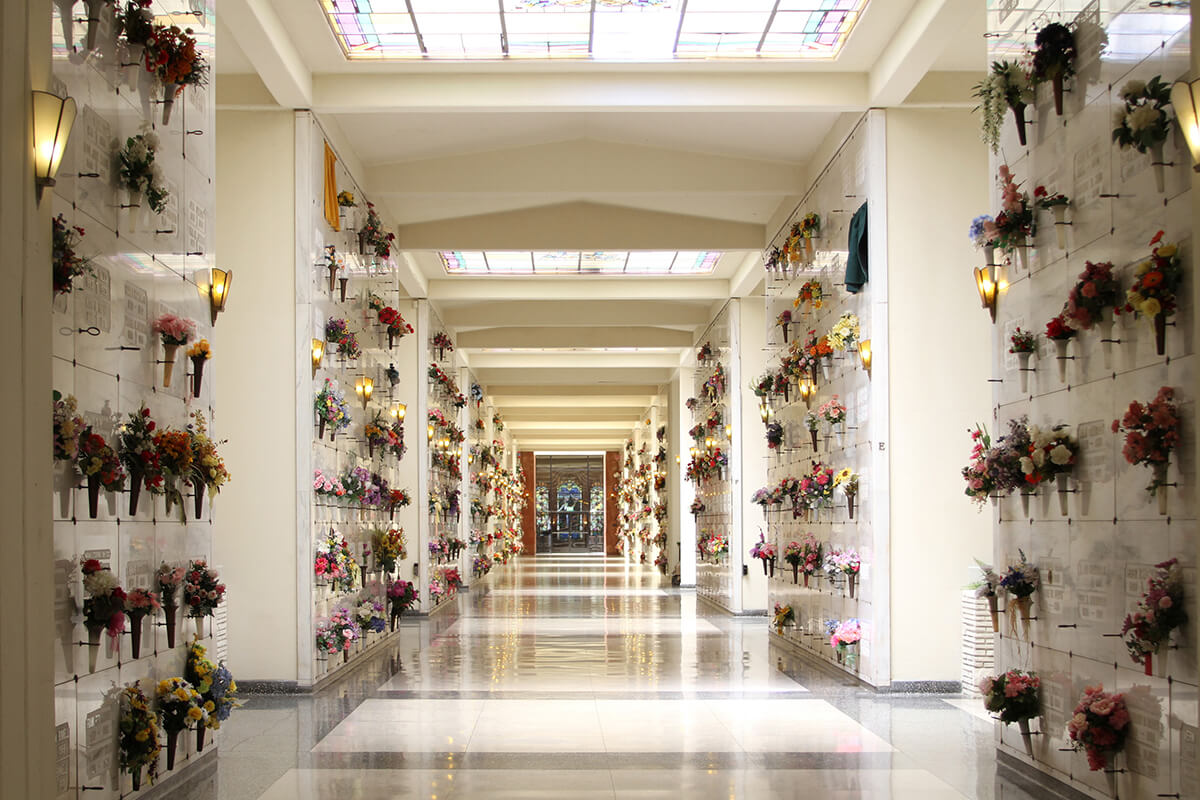 Burial Vaults
* Required for each ground burial.
Fully protective outer container full body vault.

Standard full body burial vault.

Cremation vaults – used for placement of urn in ground.

Special full body burial liners.
Bellevue Services
Chapels – three chapels available depending upon need (size). Each chapel includes podium, speaker system and chairs.

Interment site preparation and interment includes opening & closing of interment site, a cemetery tent and chairs, a podium and speaker system (if requested).

Full Witnessing of interment service (if requested).

Saturday Services – time for funeral services limited – 9:00 AM to 12:00 NOON